For those of you who may not know, I have never been particularly fashion-centric. I mean, I love makeup, hair and nail stuff. And when it comes down to it,* I'm down to wear clothes. But my fascination with fashion ended over a decade ago when my mom blocked the Fashion TV channel in our house because she noticed how much my body image had changed after watching show upon show upon show as a child at night. Now, though, I write for this lovely site and in the past year, my interest has once again peaked.

Of course, being relatively new to the fashion world isn't the easiest thing, what with my lack of celebrity favor and inability to actually purchase most designer clothes. Plus, I'm really, really awkward around strangers. And I'm a blogger, which the entirety of the industry hates and/or hates but acknowledges is now a FW factor regardless.
I've so far had more than a few weird, awkward and bizarre moments. Here they are as represented by (surprise!) GIFs.
When I was told I'd be attending NYFW:
Goodie! Celebrities and clothes!
And then reality set in and oh yeah I am the least fashionable person ever:
When I arrived at the insanely crowded Phillip Lim 3.1 x Target launch party:
The moment I spilled champagne at said party:
…And subsequently realized I had spilled champagne in front of Maria Sharapova:
When I arrived at my first show:
Everyone was all:
And my newbie ass was like:
So then I noticed my fly was undone in front of like 10 models and hated myself:
And I was wearing my roommate's high heels (which are a half-size too small):
Oh, and I had accidentally gotten in the shots of videographers:
When I stepped off the subway for Lincoln Center amid delays and humidity: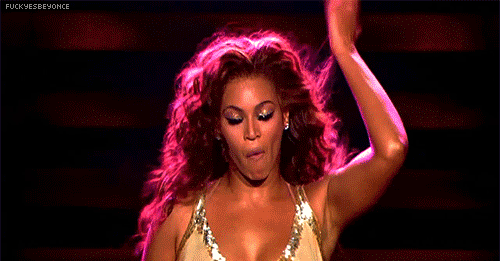 So I got my hair blown out and had my makeup & nails done at the Style Coalition NYFW Influencer Lounge:
And suddenly, life was all:
But then some street style guy took my photo as I ate a croissant:
Later, I saw that the sweetest model ever added me on Instagram:
When people thought I was important and had no idea that I am a 23-year-old blogger from Syracuse who occasionally reuses paper plates:
When a fellow writer told me she wishes they only served water at FW:
Each time I had to wave "goodbye" to all the pretty clothes:
When Jeanie Syfu said she had read TheGloss: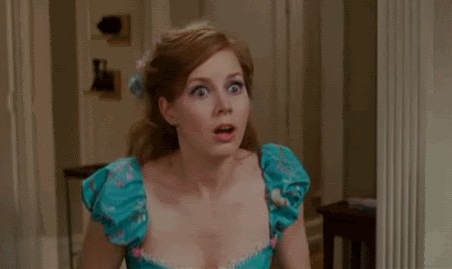 Every time I realized I was in the way of actual important people:
Every time I saw a random person posing desperately for street style photogs:
How I want to celebrate once it's over:
How I will actually celebrate:
*"It" being "decency laws."
For all our Fashion Week coverage, click here!