Big news! Not only is Game Of Thrones returning in mere weeks, but Jon Snow Kit Harington has been chosen as the face of Jimmy Choo's new collection for men. In case it's not obvious, I have a bit of a thing for the tortured orphan type, and Jon Snow happens to be a favorite of mine. Let's celebrate the new opportunity to see his face on billboards and in magazines with 15 amazing, brooding, sexy, heartbreaking, and plain adorable Jon Snow GIFs. Forgive me–a few Harington GIFs made it in there, too. I'm still not clear on the idea of Jon Snow not being a real person.
 1. What is this creature? Be my best friend.
2. Oh, Jon Snow. That sneer could make a million girls swoon.
3. Oh, gosh. Look at them taking their oaths. It's like watching kindergartners graduate.
4. Well, this hurts.
5. DESPAIR.
6. Seeing how obviously embarrassed he is to be saying this is just really, really nice. Happy Thursday.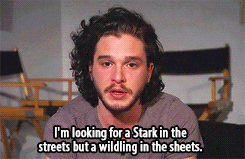 7. Sheepish looks good on him. What do you think the interviewer just asked him? Boxers or briefs?
8. Hands down, the best Jon Snow gif of all time. Top five, at least. Top 15, definitely.
And now…let's take a brief digression into the Jon Snow-Ygritte relationship.