It's been a big month for Ashton Kutcher and Mila Kunis, who just announced their pregnancy and engagement within a three-week span. If that wasn't enough Kutcher-Kunis news for you, the universe heard your prayers and has provided you with the two of them on a Kiss Cam, making out for the world to see. You're welcome.
The pair attended an LA Clippers game this weekend and found themselves making out on giant screens all over the place. Instead of doing the typical quick kiss, they really went for it, which is pretty adorable. They also displayed the poise and grace of two people who are used to having cameras shoved in their faces at all kinds of inopportune times, instead of getting awkward and uncomfortable, as mere mortals would.
I've always assumed that being caught on a kiss cam would be the world's most awkward event, because I am not a celebrity and I truly don't understand the appeal of watching random humans being bullied into making out (unless you're this duo). I am so fearful of finding myself on there that the last time I went to a basketball game (it was a Clippers game, just like Kutcher and Kunis! Celebrities are just like us), I put a friend between my boyfriend and me so that we wouldn't accidentally end up on there. Spoiler alert: My boyfriend and friend ended up on the Kiss Cam, and chastely shook hands and kissed on the cheek. That could have been me! Crisis averted.
But such was not the case for Mila and Ashton, who looked pretty freaking adorable throughout the whole ordeal. Popsugar put together some excellent GIFs to better illuminate the event, and the highlight in my book is the moment of recognition: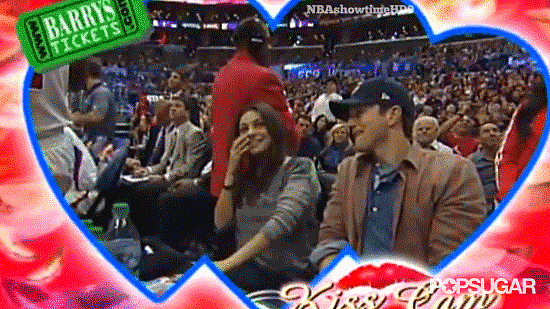 And then when Kutcher joke-suavely turns his hat around to better prepare for mouth things. What's more charming than being jokey-suave? Very little.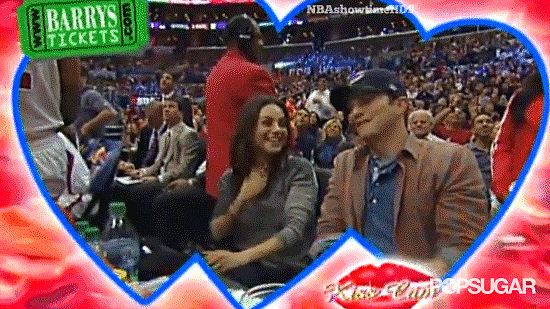 Here's the whole shebang:
Some people just have it all figured out.
Photo: Youtube