Lupita Nyong'o just landed herself an endorsement deal with Lancôme, and it was really only a matter of time before a beauty giant grabbed her up. Nyong'o consistently nails it in the beauty department (and hair, clothing, and styling in general)–she takes tons of risks that always land. Seriously, she makes jewel-toned eyeshadow look highly wearable. I can't wait to see the campaign, or really any excuse to see Nyong'o try on new make up looks. Her statement about her new post is expectedly charming:
I am particularly proud to represent [Lancôme's] unique vision for women and the idea that beauty should not be dictated, but should instead be an expression of a woman's freedom to be herself.
Yes. All of this. I know it's a canned PR statement, but it's important to promote the idea that beauty and makeup are personal choices and aren't a sell out for people who disagree with the beauty industry's marketing tactics and unattainable standards. Any statement that encourages choice in all forms is a victory in my book. I digress.
Let's celebrate Nyong'o's new gig with 10 adorable GIFs of everyone's favorite person on earth.
1. Nobody looks better in more shades of lipstick than Lupita Nyong'o.
2. Okay that dress is so freaking mesmerizing.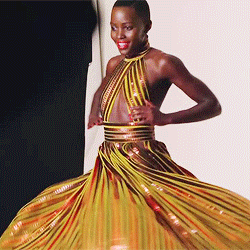 3. Nyong'o had some great words about Charlize Theron:
4. Please indulge me in a few Oscar GIFs, starting with this moment of unbelievable joy:
5. Oh gosh.
6. This still gives me chills.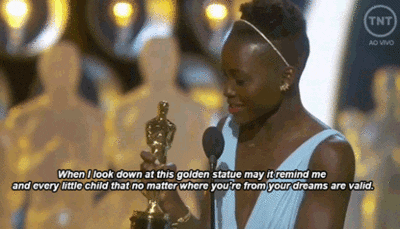 7. And this just…this is just the best.
8. Her Ellen appearance was just joy-filled.
9. I especially liked this moment, when pure exhaustion rendered her unable to answer questions.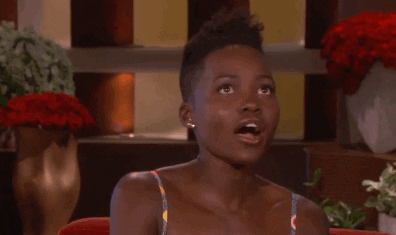 10. Keep being you, Lupita.
GIFS: Giphy