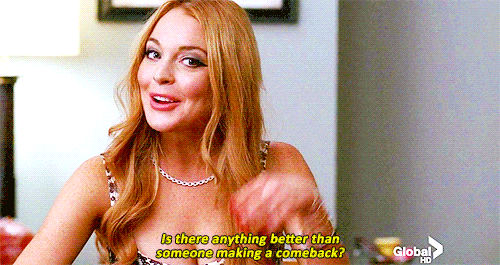 Lindsay Lohan has come a long way since Mean Girls premiered a full decade ago. It's a terrible pity that the long way has been downward.
Based on the current perception of Lohan as difficult, entitled, troubled and a has-been of sorts, it's hard to believe that she once was a rising starlet with promise. The documented proof that she was once a lovable ingenue and not a hot mess will break your heart. Check out these excerpts from reviews of Mean Girls from when it first hit the silver screen. 
1) Tribal Rites of Teenage Girls Who Rule by Terror By Elvis Mitchell, Published April 30, 2004 in The New York Times.
"[The film] has the ambitious and cartoony dark side of a Disney Channel sitcom, with a lively and talented young cast headed by the cherubic Lindsay Lohan."
A 2014 Lindsay Lohan would never be described as lively or cherubic. Not only has her acting turned stiff and wooden, but she's had about a million stints in rehab and more lip injections and botox than we can keep track of.
2) From the Review of Mean Girls (2004) by the esteemed Roger Ebert, Published April 30, 2004.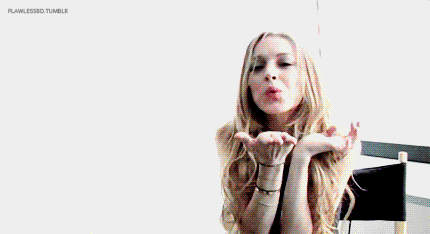 In the middle of all this, Lindsay Lohan, who was 17 when the movie was filmed, provides a center by being centered. She has a quiet self-confidence that prevents her from getting shrill and hyper like so many teenage stars; we believe her when she says that because of her years in Africa, "I had never lived in a world where adults didn't trust me." She never allows the character to tilt into caricature.
At one point Roger freakin' Ebert considered Lindsay Lohan centered and quietly self-confident. These words describe a young woman who is a  far cry from the caricature of her tabloid persona she has become. Lohan is now a like a spoof of a spoiled movie star, more famous for her appearances at nightclubs than her subtle acting.
3) Female Trouble: Mean Girls disects the high-school cafeteria by David Edelstein, Published April 29, 2004 on Slate.
"[T]he actress has a natural, redheaded Irish-American prettiness that's a nice contrast to these wiggly Barbie dolls."
Any picture of Lindsay Lohan from the past few years completely contradicts this description of her former self–she's a wiggly Barbie doll and she's anything but natural.
4) Mean Girls Review by Lisa Schwarzbaum, Published on Apr 29, 2004 in Entertainment Weekly.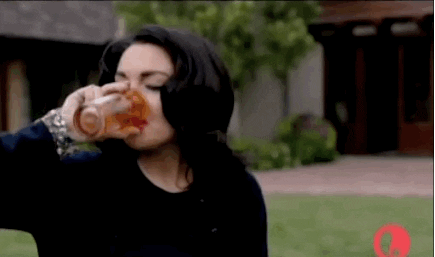 (The comedic downside of Lohan's rapid rise into a polished 17-year-old star is her increasing discomfort with playing goofy, the flaw of precocious sophistication that marred her performance in "Confessions of a Teenage Drama Queen.")
It's strange that there was a time when Lohan was considered to be rapidly rising, polished and precociously sophisticated. Perhaps she was precociously sophisticated as a teenager, but as an adult woman, she's precariously infantile.
5) Fresh look at teen cliques makes Mean Girls click By Robert K. Elder , Published April 28, 2003 in The Chicago Tribune.
The biting teen comedy "Mean Girls" heralds the silver-screen big bang of two promising careers: actress Lindsay Lohan and comedy writer/actor Tina Fey.

In one movie, Lohan ("Freaky Friday") goes from a Disney-sculpted actress to her own star, transported by "Saturday Night Live" head writer Fey's nervy comic script.
One of these women's career had more promise than the other. If the great and beloved Tina Fey once saw something special in Lindsay Lohan and her acting abilities, perhaps one day she can garner support from respected filmmakers again.
Recently, all we've been hearing about Lindsay is that she's relapsed, or acted like a an asshole or can't get work. It's depressing to see that the world once wanted more of her. Personally, I'm always rooting for Lindsay. If she doesn't ever have a true comeback, I'm game for her always being in the public eye–even if (or maybe especially if) she remains a tabloid fixture who can only manage to get roles in campy flops like the Canyons (2013) and Liz & Dick (2012).
Photos: Giphy